President Obama's Farewell Address to You
WATCH LIVE


President Obama is in Chicago to offer his thanks to the American people for the last eight years and share his thoughts on where we go from here.
WATCH LIVE
President Obama's message on his Farewell Address
READ IT HERE
Since George Washington, U.S. presidents have often delivered a final address to the American people as a way to share both their reflections on their time in office and their outlook on the future of our country.
As his time in office comes to a close, President Obama will return to Chicago to deliver his Farewell Address on January 10, 2017 at 8 p.m. CST / 9 p.m. EST.
Attending the event in Chicago?
CLICK HERE FOR DETAILS
"America is not the project of any one person. Because the single most powerful word in our democracy is the word 'We.' 'We The People.' 'We Shall Overcome.' 'Yes, We Can.'"
— PRESIDENT OBAMA
THE RECORD Previous Next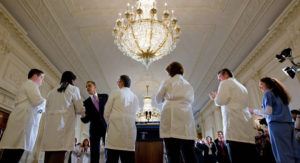 President Barack Obama greets doctors and nurses following his remarks about health care reform in the East Room of the White House, March 3, 2010. (Official White House Photo by Chuck Kennedy)
Improving Health for All Americans
President Obama promised that he would make quality, affordable health care not a privilege, but a right. After nearly 100 years of talk, and decades of trying by presidents of both parties, that's exactly what he did. Today, 20 million more adults gained access to health coverage. We've driven the uninsured rate below 10 percent — the lowest level since we started keeping records — and built stronger, healthier communities through advancements in public health, science, and innovation.
Bar chart showing that the private insurance spending per enrollee was 6.5% in 2000 to 2005, was 3.4% from 2005 to 2010, and 1.5% from 2010 to 2015. Bar chart showing that the uninsured rate in 2010 was 16% and in 2016 was 8.9%.
GET THE FULL HEALTH RECORD AS A PDF
DOWNLOAD THE FULL RECORD AS XML
THE RECORD Previous Next
President Barack Obama views Bear Glacier which has receded 1.8 miles in the roughly 100 years that have been recorded, during a boat tour to see firsthand the effects of climate change in Kenai Fjords National Park, Alaska, Sept. 1, 2015. (Official White House Photo by Chuck Kennedy)
A Historic Commitment to Protecting the Environment and Addressing the Impacts of Climate Change
President Obama believes that no challenge poses a greater threat to our children, our planet, and future generations than climate change — and that no other country on Earth is better equipped to lead the world towards a solution.
That's why under President Obama's leadership, the United States has done more to combat climate change than ever before, while growing the economy. In fact, since the President took office, carbon emissions have decreased 9 percent, while the U.S. economy grew more than 10 percent.
Reducing Carbon Pollution in Our Power Plants
GET THE FULL CLIMATE RECORD AS A PDF
DOWNLOAD THE FULL RECORD AS XML
Bar chart showing that from 2008 to 2015, the economic growth was 10.6% and carbon dioxide emissions lowered by 9.4% Bar chart showing that electricity generated from solar was 865 in 2008 and 45,000 in 2016. Electricity generated from wind was 55,000 in 2008 and 165,000 in 2016. Bar chart showing that the U.S. imported 11,115,000 barrels of oil per day, and in 2015 the U.S. imported 4,711,000 barrels of oil per day.
WATCH
President Obama Speaks on Climate and Energy
American Leadership in the World
When President Obama took office in 2009, America was engaged in two costly wars, faced a global economic crisis, and had a diminished standing with our allies and around the world. The President has refocused and reaffirmed American leadership in the world, recognizing that American strength derives not only from our military power but also our economic vitality, the depth and breadth of our global partnerships, and our values. In doing so, the President has remained relentless in taking action against terrorist networks, while also focusing on key emerging regions and policies that will shape the 21st century.