Everything you need to know about Davos 2017
The theme of Davos 2017 is "Responsive and responsible leadership"
Image: REUTERS/Arnd Wiegmann
Written by
Ceri Parker, Commissioning Editor, Agenda, World Economic Forum
Tuesday 10 January 2017
This article is part of the World Economic Forum Annual Meeting 2017
Watch the press conference with Co-Chairs of the Annual Meeting 2017 here.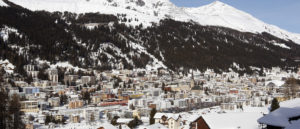 3,000 people will converge on a small town in the Swiss mountains for the World Economic Forum's Annual Meeting 2017, running from 17 to 20 January. What are they doing there? Who are they and what do they hope to achieve?
Davos 2017: What's it all about?
Unless you have been living under a rock on Mars, you will be aware that 2016 was a turbulent time for global affairs, with a backlash against globalization leading to two surprising vote results and a rise in populism in the West.
As the power balance in the world shifts, the theme of the meeting is "Responsive and responsible leadership". How can leaders be responsive to the genuine frustration of people left behind by globalized market capitalism, in a responsible way that offers workable, fair and sustainable solutions? As Professor Klaus Schwab, Founder and Executive Chairman of the World Economic Forum, explains:
"The world around us is changing at unprecedented speed. At this tipping point, our traditional concepts of society, meaningful employment and the nation state are challenged, and many understandably feel insecure or even threatened."

"A new model of responsive and responsible leadership is needed to allow us to address the challenges the world faces, from security to the Fourth Industrial Revolution, with long-term, action-oriented thinking and solidarity on a national and global level," he added.
You can read more from Professor Schwab on the theme of the meeting here.
The meeting will focus on four key leadership challenges for 2017: strengthening global collaboration, revitalizing economic growth, reforming capitalism and preparing for the Fourth Industrial Revolution – a huge leap powered by the digital age, which is transforming the way we live and work. It will do this through a programme where more than half of the 400 sessions focus on social inclusion and development.
Davos revolves around the idea that the only way to address big challenges is to talk to all groups in society and all members of the international community. This is multi-stakeholder theory, and the Forum believes it's as relevant today as it was in 1971 when the first Annual Meeting was held.
This year, the meeting will include Shaping Davos, connecting leaders with young people from 20 cities around the world to address the concerns of the millennial generation, as well as 30 sessions dedicated to finding better ways to deal with humanitarian crises, and a number of sessions from social entrepreneurs – people who harness the power of business for social good.
https://www.weforum.org/agenda/2017/01/everything-you-need-to-know-about-davos-2017/