We're stargazing from the South Lawn tonite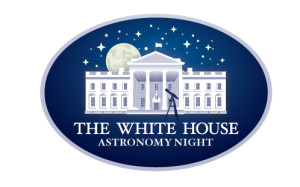 Ever since I was a kid, I had my sights set on the stars.
And with a little bit of luck and a lot of hard work, I managed to reach my dream and see those stars up close during my travels into space as a mission specialist with NASA's Astronaut Corps.
Every kid should get to experience the excitement of seeing the stars a little bit closer.
Which is why today, working as Assistant Director of Space and Aviation Security in the White House Office of Science and Technology Policy, you can guess that I'm particularly excited that tonight, the President will host the second-ever Astronomy Night, right here on the South Lawn of the White House.
We've invited students, educators, engineers, scientists, and visionaries from the space industry here to stargaze with us tonight, using 18 telescopes to observe celestial objects, including the Moon, Neptune, the Andromeda Galaxy, and Albireo (a binary star system).
I'm reaching out because, together, we can ensure that you and people in every corner of our nation get to join in the fun Astronomy Night. Here's how you can get ready:
Encourage your friends and family to tune into a live-stream of Astronomy Night at 7:30pm ET at White House to watch the President's remarks. You can also share the map so others can participate remotely as well.
At the first Astronomy Night, we were lucky to have a visit from Astronaut Sally Ride, the first woman in space and one of my heroes.
This year, we're thrilled to be having a conversation with some special guests, including four NASA Commercial Crew Astronauts, Adam Savage and Jamie Hyneman from Discovery Channel's MythBusters, and more. Want to join in? Ask your astronomical questions on social media using #AskAScientist.
That's all for now, but do not forget tun in and look up.
Alvin Drew