Obama: "Immigrants are the American character"‏, Celebrating Hispanic Heritage Month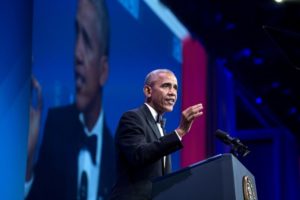 SEPTEMBER 16, 2016 AT 4:47 PM ET
BY FELICIA ESCOBAR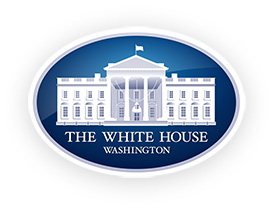 President Obama kicked off Hispanic Heritage Month with an important speech celebrating the strides that we've made together over the past eight years.
White House staffer Felicia Escobar sent the below message to the White House email list to mark the first week of President Obama's final Hispanic Heritage Month.
Happy Hispanic Heritage Month! This is my seventh year celebrating it as a staffer at the White House, and it's hard to believe it will be the final one.
Growing up in a Mexican-American family in San Antonio, Texas, I was raised to be proud of both my Mexican and American heritage. I was taught the values of this country by my parents, grandparents, and very large network of extended family and friends. I was taught that anyone can achieve their dreams, if they work hard. But I never thought I'd end up in the White House. And as someone who's worked on public policy and social justice issues all her life, I never thought I'd get the opportunity to be part of the progress we've made under this remarkable president.
Last night, President Obama kicked off the month with a speech celebrating the strides that Hispanic Americans have made together over the past eight years. He thanked the Hispanic American community for having his back and lifting him up. Trust me, you won't want to miss this one:
Under President Obama, we've brought back the economy from the brink and helped make sure more families have access to the same basic opportunities: a good-paying job, affordable health care, and a good education. Since the President took office, about 4 million more Hispanic Americans have health care than before, and more Hispanic students are graduating high school than ever before. And last year, across every race and age group in America, incomes went up more than any other year on record – and Hispanic American families had some of the fastest income growth.
I started my career fighting for DREAMers, and am personally proud of our work to bring these inspiring young people out of the shadows and to keep families together. Through the President's executive actions to modernize our immigration system, more than 740,000 DREAMers have been able to contribute to the only country they've ever known.
But we all know there is more work to do. And while we have not achieved our ultimate goal of passing commonsense immigration reform, we have broadened and deepened the coalition of support, and I am confident we will get there because you will continue to fight for it.

As President Obama said last night, "Immigrants aren't somehow changing the American character; Immigrants ARE the American character.
When I reflect on the work we have left to do, I think of the values my family taught me in San Antonio, and of their boundless faith in this country: the idea that if we stay optimistic and stick together, progress is possible.
Mil gracias,
Felicia
Special Assistant to the President for Immigration Policy
In this role, Felicia develops the President's strategy for building a 21st century immigration system. This work involves coordinating efforts across the Executive branch to strengthen the current system and working toward passage of meaningful, comprehensive immigration reform legislation. Felicia previously served on U.S. Senator Ken Salazar's legislative team, working with him to develop his legislative agenda on a host of issues including labor, civil rights, judicial nominations and immigration. Felicia advised Senator Salazar during the comprehensive immigration reform debates of 2006 and 2007 in which Senator Salazar was a key member of the bipartisan group pressing for reform. Prior to this, Felicia was Associate Director of the Senate Democratic Steering and Outreach Committee. In this role, Felicia helped cultivate relationships between Democratic Leader Tom Daschle and key stakeholder groups, including Latino, immigration and education advocacy groups. Felicia started her career as a State Policy Analyst working for the National Council of La Raza. She represented NCLR and its network of affiliates in the Texas State Legislature, testifying before legislative committees to advocate for education, immigrant access to benefits, and hate crimes legislation. Felicia is a native of San Antonio, TX. She received an undergraduate degree from Yale University, a Masters in Public Policy from the Harvard Kennedy School of Government and her J.D. from UCLA School of Law.